Okay, back to the present. It's great to see what's coming up in spring but it's more fun to concentrate on how to update and freshen our looks for the fall.
I'm getting extremely bored with my long hair, and I wish this hot, muggy unseasonably warm weather would go away so I could wear pants and sweaters. Maybe I'm just ready to have this baby!
Great Trends for Fall that will stay timeless in your closet...
Faux-Leather
You can do a little or a lot, as in an accent on a piece of clothing or a whole skirt or pair of skinny jeans.
It's easy to find leather in the stores right now at all different price points.
Here's one of my favorites at Neiman Marcus for only $88.
Buy
here
.
Red Lip
Always a staple and of course hot for fall. Just be careful you pick the right shade for your skin tone.
According to Harper's Bazaar, combine lipstick with a gloss or add translucent powder to make it last longer.
Haper's Bazaar pick for every age: Dior Red Rouge.
Buy
here
.
Burgundy or "Oxblood" for the fall
Oxblood is a very popular trend this season. Like faux-leather, you can do a little or a lot. I like accenting with bolder colors, so a little on the lips or nails will do just fine if you don't want to go all out.
Sonia Kashuk has a nice nail color following this trend called "All Vamped".
Target in stores, $8.
OR...add it to your decor with an oxblood chair from Target for only $129.99.
Buy
here
.
Braids
Braids are such an easy way to jazz up a simple hairstyle with either a sleek or messy look. I've been trying out the Braid Updo seen on Diana Agron in the last photo, and I love it.
Fall 2012 runway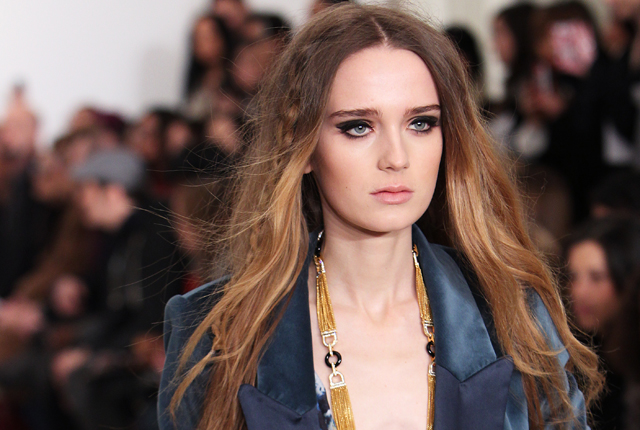 Rachel Zoe Fall 2012
Marchesa Fall 2012
Diana Agron at Sag Awards 2012